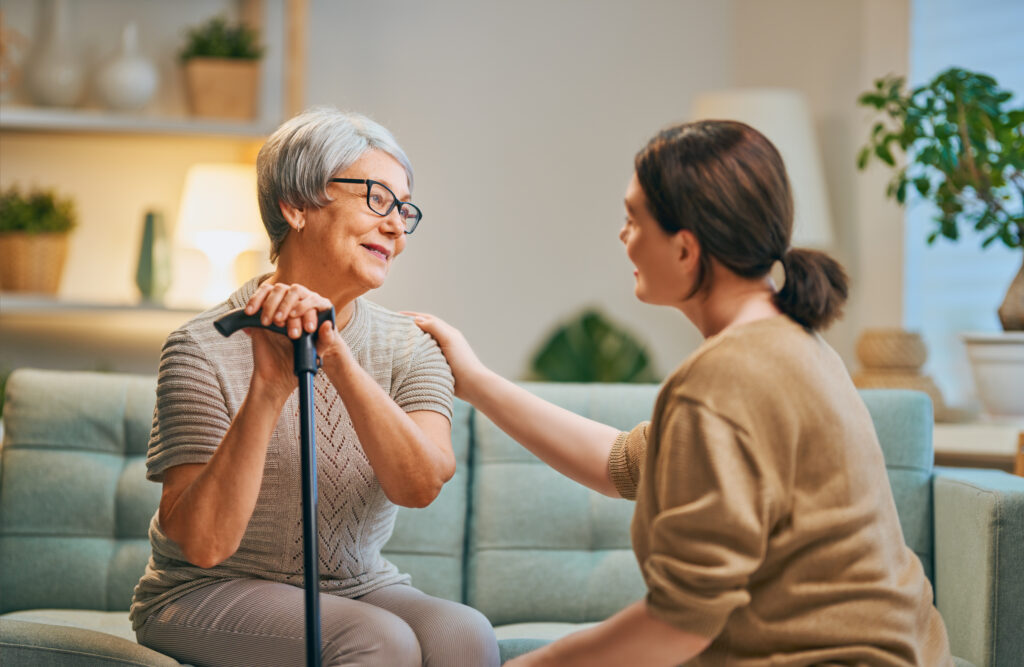 Live-in care comprises a fully trained caregiver assisting your senior who may need care
around the clock. Your live-in caregiver will help them with their specific needs to remain
independent and comfortable at home. Our live-in caregivers and companions assist with the
following tasks:
 Dietary and nutritional needs
 Specialist medical care and personal care
 Companionship and support
 Housekeeping and other routine domestic tasks
Whether it's personal care, moving around the house, or chores, many of our caregivers
become a rock for their clients, allowing them to live their lives the way they want every day.
In-Home Care for Seniors: Everything You Need to Know:
Senior care services can help people live in their own homes safely and independently.
Illness, infirmity, and dementia can make it difficult to manage household chores, cook, shop,
get to places, and care for ourselves as we age. When this occurs, elderly in-home care may
be required.
Senior home care or senior live-in care provides your loved ones with the practical and
emotional support they need to stay happy and healthy in the home they love.
What is Senior Live-In Care?
Senior home care is assistance provided to people in their homes—professional caregivers trained to support and help seniors oversee live-in care.
If needed, the caregivers are available all day and night. A single full-time caregiver or a
group of caregivers working on a rota, such as a week on, week off, is provided.
Professional elderly caregivers visit the home to assist with basic household tasks like going
to the store to administer medication, assisting with grooming and bathing, and assisting with
going to the loo.
The appropriate level of elderly live-in care will be determined by your loved one's health,
level of function, and preferences. Elderly home care may be required for a few hours to
offer a helping hand and a familiar face, or it may be necessary to provide round-the-clock
senior nursing care to support complex care needs such as incontinence, tube feeding, or
ventilation.
Live-In Care for Seniors: Round the Clock Senior Homecare:
Live-in care for the elderly is becoming an increasingly common alternative to placing loved
ones in care homes, particularly for those with more complex elderly support needs.
This is because it allows elderly relatives to remain in their homes while meeting their
changing requirements. It is an excellent way for many people to maintain their independence
while receiving the care they require.
When Should Seniors Consider In-Home Care?
In the following circumstances, elderly live-in care is appropriate:
 Cooking, cleaning, washing, and going to the bathroom are all tasks that your elderly
relative finds difficult.
 Your elderly relative prefers the familiarity and freedom of their home to move into a
care home for assistance.
 Your elderly relative can still get around safely in their home, or the house can be
adapted to make it safe for them in the future.
What Are the Benefits of In-Home Senior Care?
The primary advantage is that the elderly individual can remain in their home. Of course, this
must be balanced against increased safety and quality of life. Even while elderly individuals
suffer from severe illnesses, they benefit from remaining at home.
Live-in care is based on a customized plan of care that outlines the goals established by the
care team, which includes the elder, family, or doctor, as well as whoever has the legal
authority to approve such decisions. The care plan assists in focusing care on areas that
enhance the elder's quality of life. Meal preparation, housework, errand running, assistance
with eating, and personal care are all services offered to your elderly relative.
The benefits include:
o Increased patient safety
o Regular exercise, ambulation, and assistance with ongoing therapy, like those
considered "home instructions" from physical therapy.
o Nutritional enhancement through meal preparation and dietary management
o Optimized medication management and reminders to take medications as prescribed
o Improved socialization, particularly for isolated elders.
o Increased family participation
o Reduced stress and anxiety, particularly when traveling to and from a doctor's
appointment or the grocery store.
In summary, the care plan should address all deficiencies that reduce the elder's quality of
life.
Speaking With Seniors About In-Home Services:
Seeing someone you care about struggle to care for themselves can be frightening and
upsetting.
Sometimes declines occur gradually, while other times, a significant loss or sudden change in
health can cause problems. Whatever the reason, if you're concerned about a loved one's
safety or home state, it's critical to approach the subject carefully.
Respect your loved one's autonomy by including them in decision-making:
Unless your elderly relative is incapacitated, they have the final say in their care. You can
help by making suggestions and coming up with ideas for home care services. What other
options are there if you're concerned that home care won't suffice? Instead of imposing a
permanent solution, frame it as something to test temporarily.
Express your concerns without accusing:
An elderly relative may be more receptive to your genuine expressions of concern.
Look for the real reasons for any resistance:
A loved one who has reservations about receiving assistance may be concerned that they are
no longer able to perform tasks that were once simple. It may be easier to ignore it and
minimize any problems.
Enlist the assistance of others:
Is your loved one aware of anyone using home care services? Speaking with others who have
had good experiences can help alleviate anxiety about the unknown. Hearing feedback from
an objective third party, such as a doctor or care manager, can sometimes help a loved one
recognize that things need to change.
Summary:
Senior Live-in care allows your loved elderly to remain in their familiar surroundings and be
as independent as possible. It also improves their quality of life because caregivers are
available around the clock.
To locate live-in senior care in Chicago, visit our website
www.nancyshomecare.com or contact us at (773)819-6821 to learn more about the services we offer for your needs.